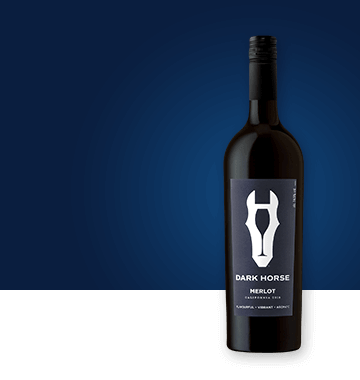 Back to Red Wines
Merlot
Flavourful
Vibrant
Aromatic
With a distinctive style, this Dark Horse red wine gives a nod to a traditional Californian Merlot while embracing its own sophisticated and intriguing character. This dark red wine is warm in colour and rich in taste.
Award
Best Buy
WINE ENTHUSIAST
APRIL 2019
VINTAGE 2016
It tastes ripe and generous... a deep black-cherry flavor and mild oak spice add interest.
— Jim Gordon
More About Our Merlot
Modern winemaker, Beth Liston, went against wine producing conventions with the Dark Horse Merlot by bringing the grapes to harvest well before many normally would. Harvesting before the merlot grape can fully develop is a daring strategy but it allowed this toasty red wine the opportunity to become something totally unique. Using precise wine-making techniques, Beth and her team were able to use their innovative skills, instinct and vision to push this blend of merlot red to its limits. It's a bold wine that dares to be different and reflects Beth's spirit of adventure.
Traditionally, the merlot grape is used to blend with different grapes to soften the impact of other wines. But, where some may have assumed merlot lacks in vitality, Dark Horse chooses to build on its blend for something much more impactful and impressive.
Full-bodied and distinctive, each sumptuous glass of Dark Horse Merlot is layered with characteristics, where hints of toasted oak are married with dark berry notes - satisfyingly complex, yet tastefully balanced, this is a treat for the taste buds.
This merlot complements both modest meals and gourmet dishes. As well as sitting nicely next to a plate of a slow roasted beef brisket or saucy vegetable lasagne, this merlot is also a great fit when paired with mouthfuls of spicy jambalaya.
Display in the centre of a dinner table and enjoy a glass while you celebrate and reminisce with friends and family over a great meal.