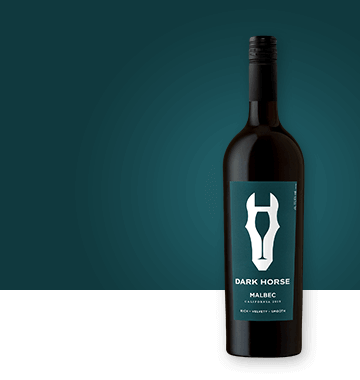 Back to Red Wines
Malbec
Discover the Dark Horse Malbec for a full-bodied red with hints of blackberry that offers a plush velvety finish.
Award
Concours Mondial Silver Award 2019
— 2017 Vintage
More About Our Malbec
There's a growing interest in Malbec. It's quickly becoming one of the world's most popular wines, with varieties produced in countries such as Argentina, France and Australia. With such strong competition, the Dark Horse Malbec needed to stand out from the ever-growing crowd and this wine does just that. Experienced Californian winemaker Beth Liston, the pioneer behind Dark Horse, has produced a wine that surpasses a standard Malbec.
Beth has managed to match the berry notes of a traditional Malbec with the originality and free spirit of a modern vineyard. She has used her skills and expertise to develop an ambitious wine rich with robust flavours. Unleashing luscious earthy tones and a velvety, tannic texture, this dry red wine is both bold and original - key strengths that closely mirror Beth's pioneering talents.
Harvesting at just the right time - and before many other red California wine grapes reach their ripeness allows the team to master the aging process and add intricate density to each glass.
With deep and intense notes, the Dark Horse Malbec is one of a kind. Each sip offers smooth dark chocolate tones with hints of spice, plum and dark fruits.
Roasted pork, rosemary lamb, peppered steak and stuffed roasted pepper sit well with the fruity flavour of this Malbec. Potatoes sprinkled with blue cheese also make a delicious Malbec pairing.
A premium bottle of Dark Horse Malbec is worth sharing with your loved ones. Pour a glass and celebrate with your friends and family.